What can we do about our kids who don't love reading?
Today I'm sharing a few ideas, as well as a few books that just might turn your reluctant reader into a reader who stays up past bedtime, sneaking books under the covers with a flashlight.
In this episode, you'll hear:
what's more important than helping our kids fall in love with reading (it's not what you think)
what we can do when a child says he's not a reader
some books that are bound to grab and hold even the most reluctant readers' attention
Click the play button below:
More free resources and booklists

Get the best episodes and reources
from the Read-Aloud Revival
Listener Guide
Use the time stamps below to skip to any part of the podcast:
2:08 First, what qualifies as a story?
4:50 Helping your child find the books that will light them up
7:18 Book recommendations for your kids who don't love reading (yet)
8:40 The Edge of Extinction books by Laura Martin
10:40 Books by Andrew Clements
13:10 The Chronicles of Narnia
14:38 The Fablehaven Series by Brandon Mull
16:25 The Hunger Games by Suzanne Collins (Sarah recommends this for teens)
20:17 Let the Kids Speak
Quotes to remember:
We want to help our kids fall in love with stories, not to fall in love with the act of reading. Enjoyment of reading doesn't ever come first. It's a love of stories that propels us to read. Focus first and foremost on nurturing a love of stories, rather than worrying too much about getting your child to love the actual act of reading.
Reading from a page is not better or preferred to hearing books read out loud. It's true. Audio books and read-alouds count as "real reading" every bit as much as reading words from a page. If you need more encouragement on this, listen to episode 66.
Use the strategy of reading aloud the first chapter or two before handing a book over to your reluctant reader. It helps your child feel like you're on the same side, rather than feeling at odds with you. It helps them get into the story without much effort. And then the impetus to keep reading comes from within themselves and not from you, which is what we're going for.
Books from this episode:
(All links are Amazon affiliate links.)
Get the printable version
Books boys love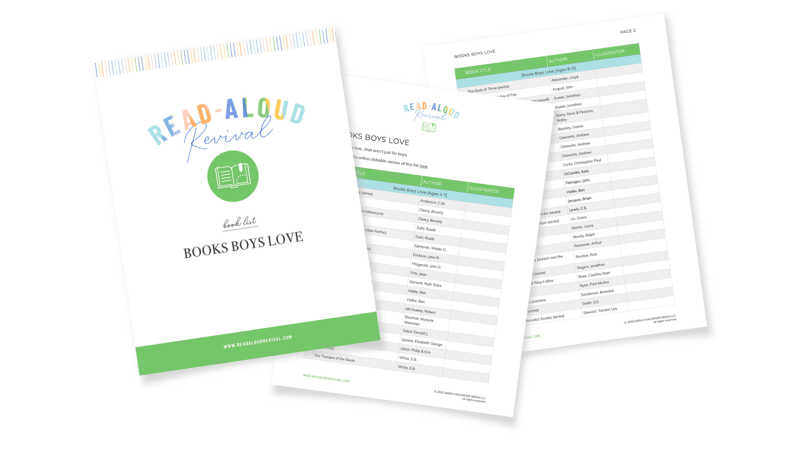 Links from this episode:
---
You'll also enjoy: