Do you read picture books with older kids? Could this be a picture book year for your family?
Today, the whole RAR crew is chatting picture books – and why it's a great idea to read them with your bigger kids too!
In today's episode, you'll hear:
Kortney's simple and systematic approach to reading picture books
how to do "classroom book a day" with your kids at home
where to find great picture books recommendations
This episode is just what you need to kick-start a picture book habit this year!
Click the play button below:
More free resources and booklists

Get the best episodes and reources
from the Read-Aloud Revival
Listener Guide
Use the time stamps below to skip to any part of the podcast:
3:15 How Kortney Uses Picture Books
7:34 Author Surprises
10:12 Classroom Book-A-Day
13:30 Picture Books as Research
14:56 Building 'The Read-Aloud Family' Book Lists
16:49 Benefits of a Book a Day
19:45 Simple, Open-Ended Questions
23:57 Empathy and History
27:24 Beautiful Art
29:19 Books for the commitment-averse
32:32 Rich Language
34:03 Where to Find Picture Books
36:02 A Challenge for You
In this episode …
A simple framework for reading more picture books with your kids:
Kortney uses a simple system for sharing picture books with her kids – she follows the alphabet. Consider using the alphabet or diving deep into an author's work!
Sarah suggests finding a 'framework' that works for your family to reduce overwhelm.
Could you read a #classroombookaday?
We talked about the #classroombookaday movement, started by Jillian Heise that encourages classroom teachers to read a picture book out loud with their students every single day- even students as old as 7th or 8th grade.
The best part – conversations
When you read picture books with your kids, you can cover a lot of ground and read many more stories than you can when you stick to only longer-form stories.
The best part? When you read a picture book every day with your kids, you have the opportunity to have great, meaningful discussions with your kids about the topics you encounter in all of those stories.
Use picture books for research
"A picture book is going to have the same information that an encyclopedia entry has, except that it's going to have beautiful language, it's going to have illustrations that help you expand on the ideas. It's going to have all the things that really light that fire of imagination."
Great research often starts with picture books! In fact, this is just what author Caroline Starr Rose does.
The benefits of reading picture books with older kids
There are so many benefits of reading lots of books together. Keep reading and chatting – you'll be amazed what your kids learn! We mention a few of our favorite picture books to read with older kids– and you'll find those linked below.
Books from this episode:
(All links are Amazon affiliate links.)
Get the printable version
Books boys love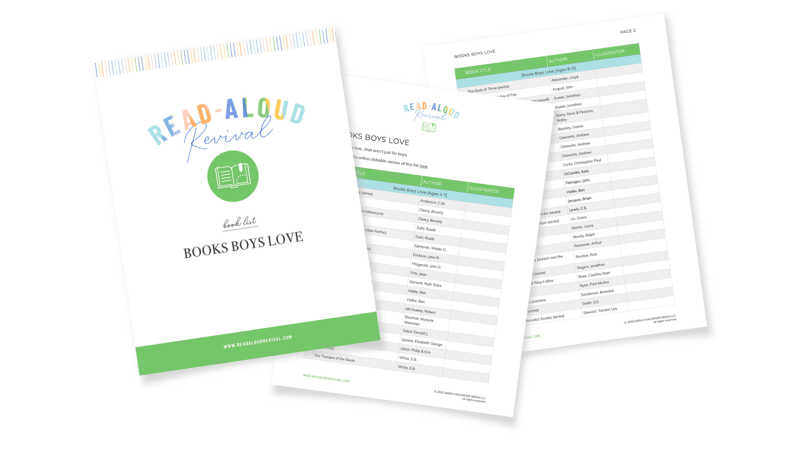 Links from this episode:
---
You'll also enjoy:
SaveSave
SaveSave
More free resources and booklists
Get the best episodes and reources
from the Read-Aloud Revival