I think this is one of the best conversations we've had so far at The Read-Aloud Revival.
Today we're talking "messy" books. Parents – you probably know just what I mean.
Messy books are those books that tackle hard topics. Or maybe they just have stuff in the background that makes us a little nervous about our kids reading them.
Today I'm talking with Betsy Farquhar of Redeemed Reader about how best to handle these kinds of books, and why we shouldn't just ignore them – even if they make us a little uncomfortable.
I enjoyed this conversation so very much, and came away with a ton of confidence and a lot of great books to read with my kids!
In this episode, you'll hear:
why as parents, WE need to be the ones to have big conversations with our kids, and how books can provide hooks to start those conversations
why controversial books are so popular
'read-alones' vs 'read-alouds'
various ways we can navigate the tough stuff with our kids
Click the play button below:
More free resources and booklists

Get the best episodes and reources
from the Read-Aloud Revival
Listener Guide
Use the time stamps below to skip to any part of the podcast:
3:38 Meet Betsy
6:25 How Redeemed Reader chooses books
7:17 What makes a book 'messy?'
10:14 Are older books ever messy?
11:38 Why do messy books freak us out?
17:15 What to do when our kids hear/read something messy
19:31 Why are controversial books often so popular
24:06 Ongoing conversations
27:55 Best books for handling messy topics
31:05 Read-alones versus read-alouds
32:14 YA recommendations
37:18 Let the kids speak
A couple takeaways from this episode …
"I think that in so many ways, the books we read with our kids– messy or otherwise– are the best gateways into some of those conversations that are uncomfortable that we don't really want to have with our kids but we know we need to have with our kids."
"There has to be some kind of redemption. It doesn't mean there's always the happy ending, but it does mean there has to be an overall sense of hope and ability to help the reader see the world with fresh eyes, to see things new."
Books from this episode:
(All links are Amazon affiliate links.)
Get the printable version
Books boys love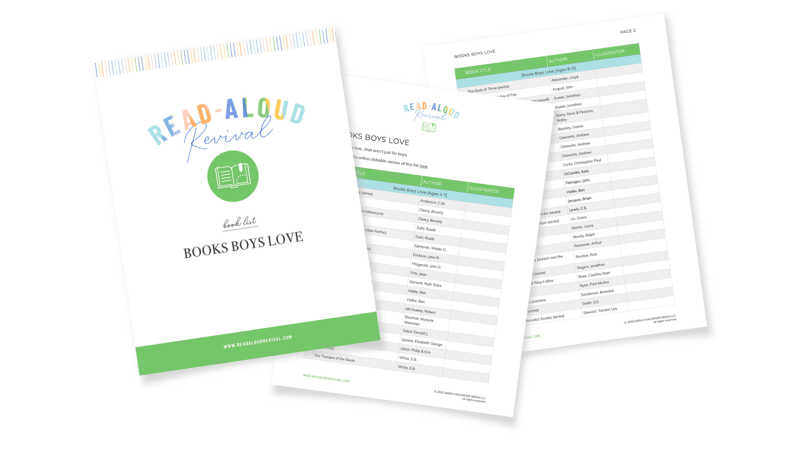 Links from this episode:
---
You'll also enjoy:
More free resources and booklists
Get the best episodes and reources
from the Read-Aloud Revival