Today, I'm hoping to tell you about some authors/illustrators you may not have heard about before!
These aren't necessarily new authors, but they may be new to you.
In this episode, you'll hear:
picture books, middle grade books and even books for your tweens and teens – I'm covering ALL the bases!
graphic novel suggestions that you'll approve of (and that your kids will like)
a couple of favorites from our house, including one book that my 5-year-old carried around for weeks
plus (admittedly, my favorite part) my 4-year-old twins chatting about a book we often read 3 times in a row
Click the play button below!
More free resources and booklists

Get the best episodes and reources
from the Read-Aloud Revival
Listener Guide
Use the time stamps below to skip to any part of the podcast:
2:24 Ben Hatke
5:27 Kyo Maclear
6:38 My 4-year-old twins give their recommendation 😉
11:49 Karina Yan Glaser
13:25 Gloria Wheelan
16:50 Renée Watson
18:52 Let the kids speak
A couple takeaways from this episode …
"Nobody Likes a Goblin is one of the best ways I know to calm my little kids when they're throwing a fit." Have tried Sarah's trick yet? When a little one is melting down, grab a book and start reading – don't announce; don't ask. Just read, and wait for the story to do its magic.
Books from this episode:
(All links are Amazon affiliate links.)
Get the printable version
Books boys love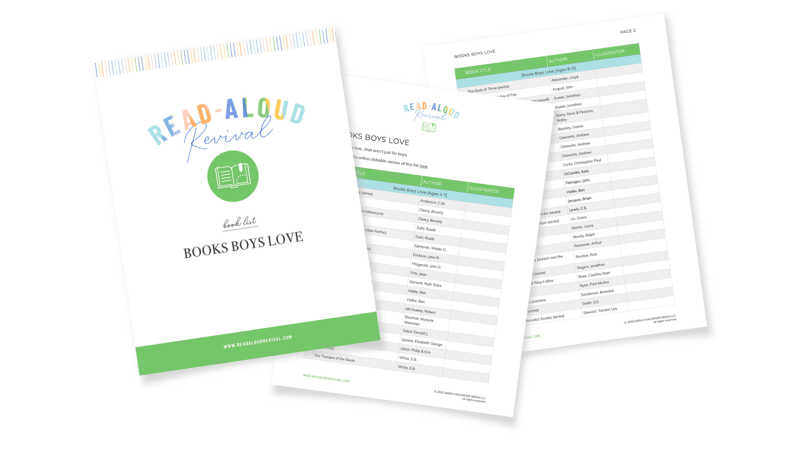 Links from this episode:
Get the RAR Booklist here or text the word "books" to 345345
Read-Aloud Revival Premium Membership is open now through 2/1/18.
Click here to discover why so many families love it.
---
You'll also enjoy:
(Note: featured image is from Julia's House for Lost Creatures by Ben Hatke)