In today's episode of the podcast, we're sharing books about adoption.
Some are picture books, some are YA– and we've got a little something for everyone in between. These are books that will help your family celebrate the adopted children in your life.
Brooke Cooney has made it her mission to share books about orphaned children, fostering and adoption.
In this episode, you'll hear:
about books for families who are waiting to bring their child home
books that help adopted kids to feel understood and see themselves reflected in the pages
tons of suggestions from picture books, to books for teens, to books for parents
Click the play button below:
More free resources and booklists

Get the best episodes and reources
from the Read-Aloud Revival
Listener Guide
Use the time stamps below to skip to any part of the podcast:
2:08 Meet Brooke
5:10 Books for the adoption/fostering journey
8:44 Celebrating Adoption
11:04 Helping adopted children feel understood
13:51 Brooke's book recommendations
20:36 Middle grade and chapter book recommendations
27:42 Book suggestions for teens
31:02 Encouragement for families who hope to adopt
33:45 Let the kids speak
A couple takeaways …
"This idea came from Rudine Sims Bishops– she wrote an article about how children need books that are windows, mirrors, and sliding glass doors. Windows, in that they allow you to peek into the life of someone else that lives very differently than you do … And then also mirrors, in that you need to see your own life reflected back at you. A child feels deep kinship with the character in a book who they can relate with, and they see their lives reflected back at them. And, also sliding glass doors, which is more like the idea of going through fantasy or seeing a whole new world, or seeing things from a completely different paradigm." -Sarah Mackenzie
"For children like myself who had that passion (for adoption) we can fan that flame for them and guide them in that direction from an early age, that they can even be doing things now that change the world by just helping their kids that they know of at church who've been adopted, or they go to school—those at school, befriending them and loving them for who they are not because of their situation but just the person that they are." -Brooke Cooney
Books from this episode:
(All links are Amazon affiliate links.)
Get the printable version
Books boys love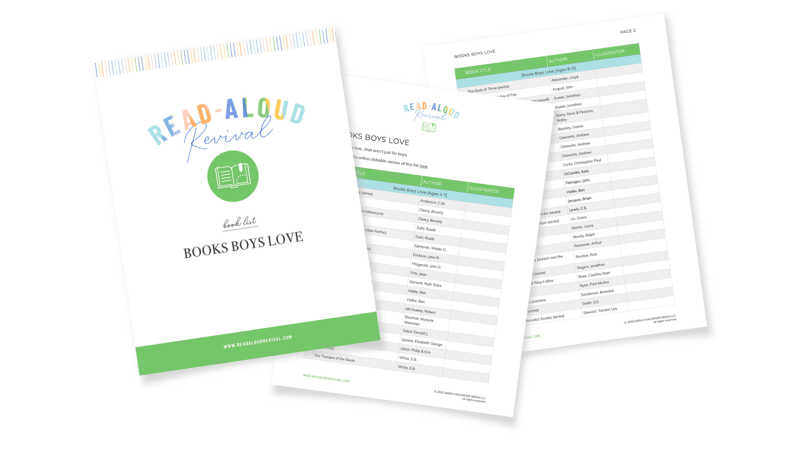 Links from this episode:
You can download Brooke's new book for FREE, or check out the Kickstarter for physical copies:
---
You'll also enjoy:
More free resources and booklists
Get the best episodes and reources
from the Read-Aloud Revival