In this very special episode of the podcast, the RAR team is discussing our favorite way to study history: through picture book biographies. We're also sharing a brand new FREE resource – a huge list of our favorite picture book biographies, organized by time period and category.
This resource will be a huge help to your history studies, because we've matched the books up to each time period. We've also got categories for:
Artists
Athletes
Inventors & Explorers
Musicians
Scientists & Mathematicians
U.S. History
Writers
And of course, we have the whole list available for you uncategorized, as well, if you like your booklists to lead to wild spontaneous discoveries. 😏
The list is available to view online, or to print. Pop your email in below to get it.
Download the FREE categorized list
Get the full printable list of our favorite picture book biographies, organized by time period and category, including tips and open-ended questions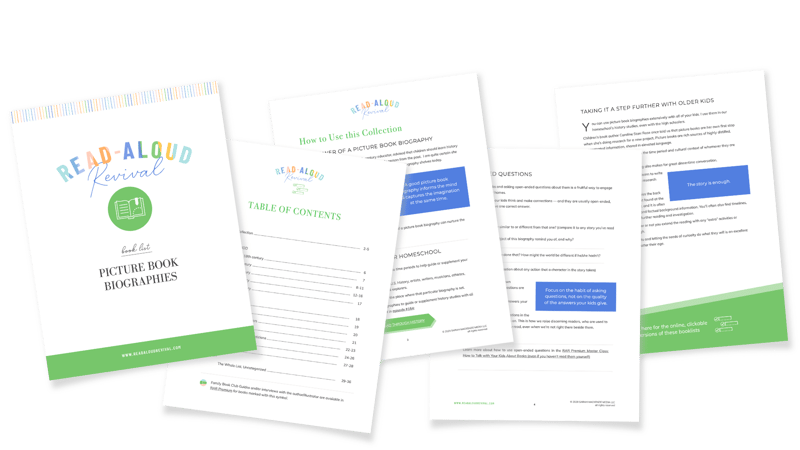 The printable also includes:
tips for using picture book biographies in your homeschool
open-ended questions to discuss them
ideas for how to use these books with older kids and high schoolers, as well as younger kids
---
In this podcast episode, you'll hear:
what makes picture books special and unique learning tools
the best ways to read them and use them in your homeschool
how picture book biographies help us answer the so what question
Click the play button below to start listening:
---
We talk about…
| | |
| --- | --- |
| 1:48 | Meet the team |
| 3:20 | 'Expanded, revised and better than ever' |
| 5:33 | Why use a picture book biography? |
| 6:46 | Sarah reads aloud (she can't help herself!) |
| 8:51 | Sophisticated language |
| 10:28 | Immersive art |
| 13:00 | Design makes a difference |
| 15:18 | Engaging back matter |
| 17:53 | Empathy and compassion |
| 20:51 | How to read a picture book biography |
| 21:58 | Expanding the story |
| 24:05 | Delight as a teacher |
| 25:03 | Picture book bios for different age groups |
| 28:16 | So what? |
| 31:46 | Back matter as a "jumping off point" |
| 33:43 | Unit studies with meaning |
| 34:51 | Going deeper |
| 36:48 | With older kids (and adults!) |
| 39:45 | Open-ended questions |
| 42:25 | Great conversations |
| 44:23 | Let the Kids Speak |
---
Quotes to remember:
"The picture books created a context for him. We did this without timelines or chanting or quizzes. He has those facts in his mind already, because he was given worthy things to contemplate, and he made connections himself that were meaningful."

Kortney Garrison
"You're experiencing what a real person saw, heard, felt because of the language, illustrations, and design that go with it. I feel like that's one of the best ways that we can build empathy in our kids and compassion."

Kara Anderson
"I think it's important to remember that the story itself is enough. Reading a story out loud with people you love and who love you, is always going to be the most powerful part of any kind of learning and reading experience."

Sarah Mackenzie
Links from this episode:
Download the FREE categorized list
Get the full printable list of our favorite picture book biographies, organized by time period and category, including tips and open-ended questions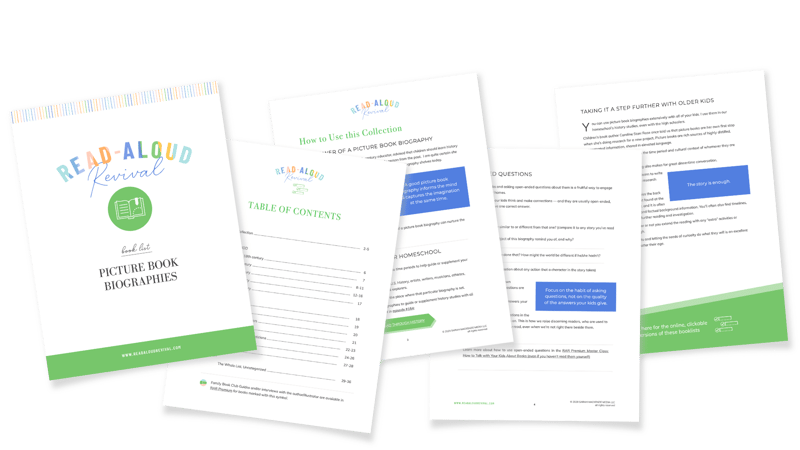 Books we discussed in this episode:
You'll also enjoy:
More free resources and booklists
Get the best episodes and reources
from the Read-Aloud Revival