It could be said that if not for a slightly impulsive email to Andrew Pudewa, the Read-Aloud Revival might not exist.
That's right – today I am welcoming back Andrew Pudewa from the Institute for Excellence in Writing – who was also the very first guest on the podcast.
In this episode, you'll hear:
why reading aloud matters
when to start literary analysis with our kids (the answer might surprise you!)
what to do if your kids what you to read all their schoolwork to them
Click the play button below:
More free resources and booklists

Get the best episodes and reources
from the Read-Aloud Revival
Listener Guide
Use the time stamps below to skip to any part of the podcast:
5:14 How The Read-Aloud Revival was born
6:49 Why read aloud with older kids?
10:15 What is reading comprehension really?
13:03 Encouraging kids to read better books
20:16 When should I worry about my late reader?
24:09 Should I read aloud my child's assignments?
25:04 When should I start literary analysis?
28:43 Homeschooling high school
33:23 Let the kids speak
A couple takeaways …
Treat them like individuals.
"One of the worst things we do is we attach grade level to age, and then we assume because a child is a certain age, he should have certain knowledge or skills or ability and it never works out that way … Let's treat kids like individuals and not get attached to the age-grade-ability paradigm that's so destructive."
"It reminds me of the Charlotte Mason philosophy to give your child something to think about, something to do and something to love … Giving them the time and space and opportunities to figure out what's going to light them up."
Books from this episode:
(All links are Amazon affiliate links.)
Get the printable version
Books boys love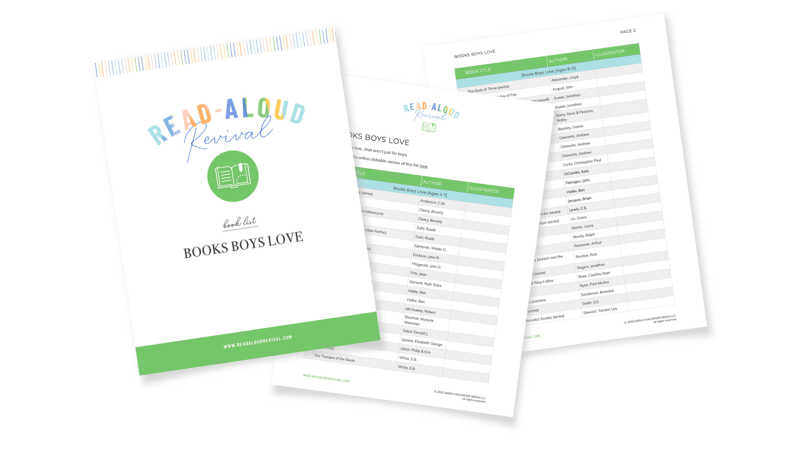 Links from this episode:
---
You'll also enjoy:
More free resources and booklists
Get the best episodes and reources
from the Read-Aloud Revival