Graphic novels … they sometimes make us a little nervous, right? As parents, we worry if they have any value.
In this episode of the Read-Aloud Revival podcast, I'm joined by the RAR Team, and we're talking all things graphic novels.
Do they count as real reading? Will they make our kids lazy readers? And what about questionable content?
In this episode, you'll hear:
what's happening in your child's brain when they read a graphic novel (aka what on earth is "multi-modal" reading?)
why some kids can't get enough of them
our favorite graphic novels to read in our own homes
And you'll find a whole slew of our favorites in the booklist below. Pop in your email for the printable version. Scroll down for the clickable version.)
Get the printable booklist
graphic novels we love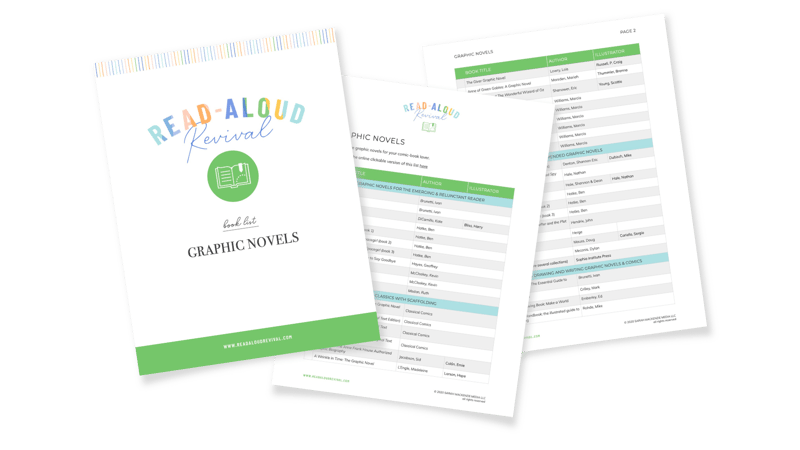 Listener Guide
Use the time stamps below to skip to any part of the podcast:
| | |
| --- | --- |
| 1:45 | Graphics novels for middle schoolers and older |
| 2:52 | Helping graphic novel fans expand their reading |
| 6:22 | What is a graphic novel? |
| 8:16 | Graphic novels as storytelling |
| 10:06 | This matters: multimodal reading |
| 11:34 | Jan Brett and her panels |
| 13:26 | How graphic novels are like audiobooks |
| 15:54 | Kortney's artistic pals |
| 17:31 | Choosing graphic novels |
| 19:26 | Great sources |
| 21:08 | Where to start |
| 22:58 | Classics with scaffolding |
| 29:43 | Drawing books |
| 30:28 | Spreading a feast |
| 35:39 | Let the kids speak |
Graphic novels for emerging and reluctant readers:
Classics with scaffolding:
More graphic novels:
Books on drawing and comics:
Links from this episode:
Get the printable booklist
graphic novels we love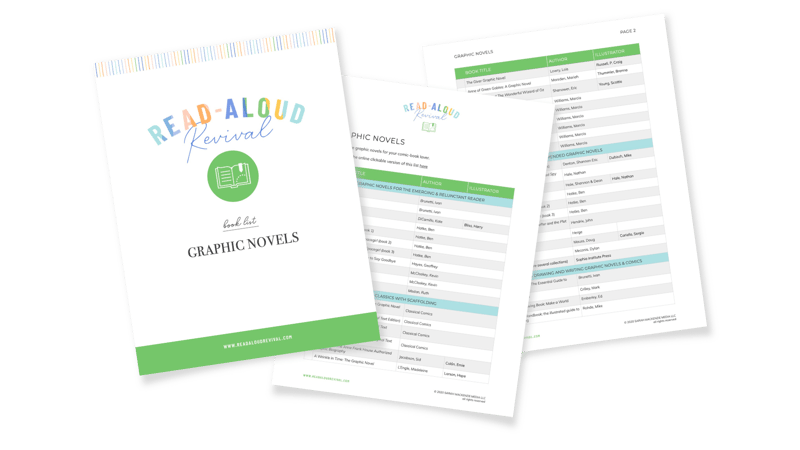 Quotes to remember:
"I catch myself thinking that text-only is the best kind of reading … but that's not the case. Reading a story in text-only is indeed a beautiful kind of storytelling, but so is visual storytelling." – Sarah Mackenzie
"We don't know always exactly what our kids are getting from a book. We make our own judgments about what they're doing, but that book might be feeding something in them that we don't know fully what it is." – Kortney Garrison
"If our goal is that they fall in love with reading, these books can absolutely help them do that and be part of just a whole spectrum of reading." – Kara Anderson

More books from this episode:
---
You'll also enjoy:
More free resources and booklists
Get the best episodes and reources
from the Read-Aloud Revival