What's the best way to introduce your kids to the lives and ideas of those who've gone before? In this episode of the Read-Aloud Revival podcast, the RAR Team is talking about using picture book biographies with kids of all ages.
Update: we've created an updated, better-than-ever list of picture book biographies for you, organized by time period and category. Don't miss it! We talk about in podcast episode #164: Our Favorite Way to Read Through History.
Download the FREE categorized list
Get the full printable list of our favorite picture book biographies, organized by time period and category, including tips and open-ended questions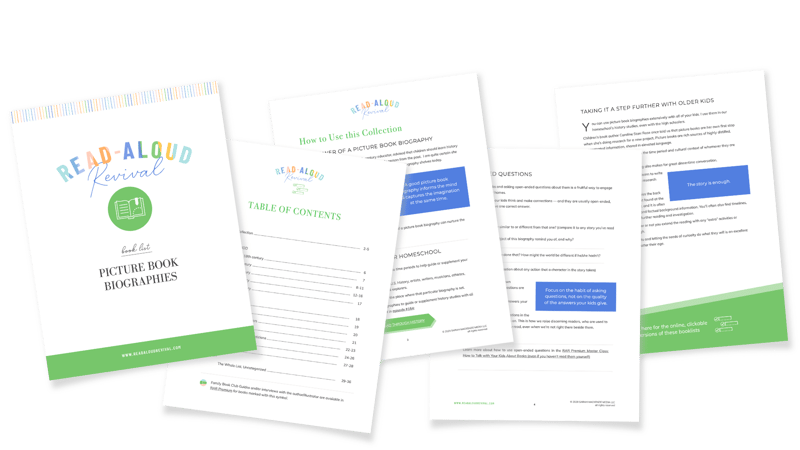 And of course, we don't just give you the why… we also share dozens and dozens of excellent picture book biographies in this new booklist!
In this episode, you'll hear:
why picture books are for all ages (no really… all ages)
what makes pictures books special (Hint: it has to do with being an invitation)
how picture books can help us learn history, research a new subject, discuss difficult topics, and more
Listener Guide
Use the time stamps below to skip to any part of the podcast:
1:18 Bigs and littles
5:17 The team is here!
6:53 Picture books are worthy
11:26 Gather 'round
12:22 Storybooks and picture books
14:35 Jen Bryant's books
15:33 Exploring difficult topics
18:37 An invitation
19:39 Kara's picks
21:19 Sarah's picks
21:58 Kortney's picks
22:55 Barb Rosenstock's books
25:45 Let the Kids Speak
Links from this episode:
Quotes to remember:
"What does it feel like to be Louis Braille? What does it feel like to be Abe Lincoln? What does it feel like to be Thomas Jefferson and creating the first library? All those questions are answered in a 32-page picture book in a way that feels a lot more visceral and personal than it could with a longer narrative." – Sarah Mackenzie
"For the busiest people… you can always squeeze in a picture book. You're not committing yourself to a big, long novel that's going to take weeks and weeks to read aloud. You're committing yourself to maybe ten minutes of good connection with your kids." – Kortney Garrison
"By stepping into the character's shoes through a picture book, (kids) really get the idea of what it was like to live during a certain time, so it's one of our favorite ways to study history." – Kara Anderson
Download the FREE categorized list
Get the full printable list of our favorite picture book biographies, organized by time period and category, including tips and open-ended questions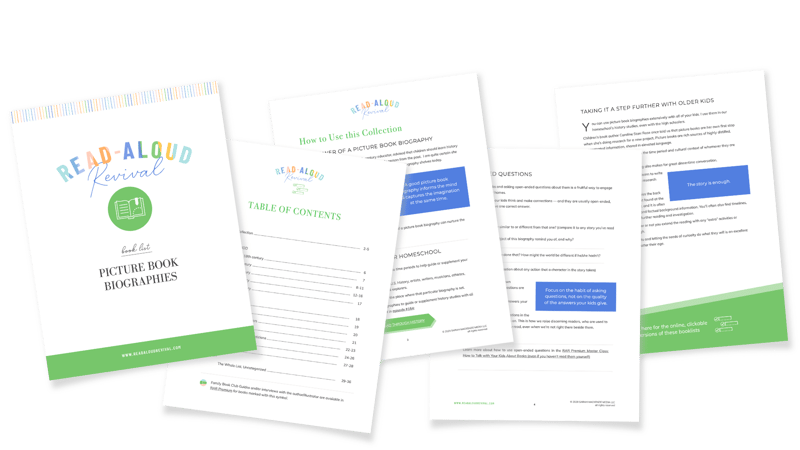 (Download the transcript above for more quotes and pull-outs.)
---
You'll also enjoy:
More free resources and booklists
Get the best episodes and reources
from the Read-Aloud Revival