3 . . . 2 . . . 1 . . . Blast off! 🚀🌒If you're looking for picture books about the moon landing, you're in the right place!
July 20th marks the 50th anniversary of the Apollo 11 lunar mission, and we've got the list of books to celebrate it!
These books are for all ages and will help your family learn and celebrate together.
In this episode, you'll hear:
how (and why) to share picture books with your older kids
a little about why back matter … matters!
a few of my favorite moon-themed books
I also answer a listener question about helping your library get connected with the Read-Aloud Revival. (hint: we have a kit for that!)
Get the printable list:
picture books about the moon landinG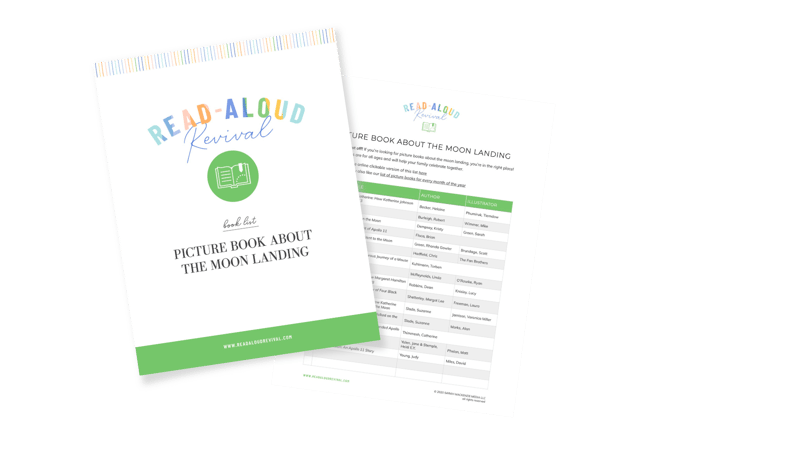 Books about the Moon Landing:
Listener Guide
Use the time stamps below to skip to any part of the podcast:
| | |
| --- | --- |
| 2:34 | Get the monthly book lists |
| 3:47 | How to connect your library with RAR |
| 7:02 | Circles, not a ladder |
| 10:00 | How to entice older kids to read picture books |
| 12:54 | 'A beautiful kind of art form' |
| 15:41 | Sarah's very favorite moon landing book |
| 18:22 | Papa Put a Man on the Moon |
| 19:25 | Marty's Mission |
| 20:00 | Team Moon |
| 21:35 | A Kite for Moon (not exactly about Apollo 11, but so good!) |
| 22:42 | Armstrong: The Adventurous Journey Of A Mouse To The Moon |
| 24:51 | Let the Kids Speak |
Links from this episode:
Quotes to remember:
"Picture books are a condensed and beautiful kind of art form. They take what could otherwise be contained in a much longer narrative and condense it to its most essential bits—in lyrical, beautiful text—many times like poetry. Then they pair that with beautiful visuals."
"A child who reads aloud regularly to their siblings, or friends, or family members will be better speakers and oral communicators than kids who are not reading aloud."
Share this list on Pinterest:
---
You'll also enjoy:
Get the printable list:
picture books about the moon landinG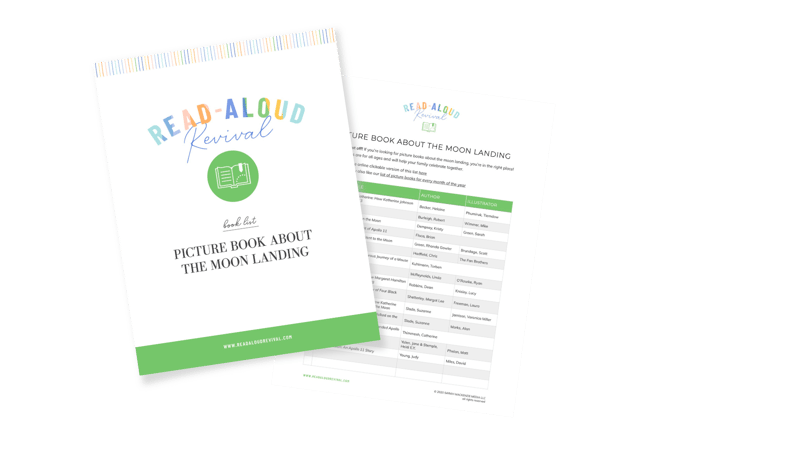 More free resources and booklists
Get the best episodes and reources
from the Read-Aloud Revival