This past week marked the 3rd anniversary of the Read-Aloud Revival podcast. Can you believe it? When I first started the podcast, I never imagined where it would take us.
At the time, I thought it would be a few episodes long and inspire a small circle of blog readers to read more with our kids​. 🙃
Now the podcast has over 2 million downloads and reaches tens of thousands of families all over the world- helping parents make meaningful and lasting connections with their kids through books. So crazy.
As a little way to celebrate, I thought it would be fun to collect some of the most popular episodes of the podcast all in one place.
Here they are, then, in no particular order:
---
Rebecca Bellingham joins me on the podcast to talk about what drove her to record her (excellent) TEDx talk. Need a fire lit underneath you to read more with your kids? Start here. Listen to Episode 49 →
---
I am delighted that this episode of the podcast has become a listener favorite. We're joined by the wonderful and witty author of the spunky and endearing Incorrigible Children of Ashton Place series, Maryrose Wood. Listen to Episode 59 →
---
Anytime Carole Joy Seid joins us on the podcast, she breaks records for how many books we can recommend in a single show. 😉 What she wants us to remember above all, though, is that reading with our kids should be joyful. You'll hear the joy in her voice! Listen to Episode 51 →
---
We all want our kids to read over the summer, right? But how can make that summer reading both memorable and fun- a treasured childhood memory rather than another thing to do and check off our lists? I chat in this episode with one of my very favorite people on the entire planet, Pam Barnhill. Listen to Episode 27 →
---
As a child, Greta Eskridge didn't spend a lot of time in nature. But now she adores it– and she's inspiring her family to fall in love with it too! On this super popular episode of the podcast, Greta and I chat up the best books to help your kids fall in love with nature. And I break my own record of how many books I can buy while recording a single episode. 😆 Listen to Episode 62 →
---
Jonathan Auxier may be one of the most delightful authors I've ever had a conversation with. My own daughter joined me to interview him, and you know what floored us most of all? His mother's decision to homeschool him for a year so he could have a chance to fall in love with reading. Listen to Episode 56 →
---
This episode reminds us to embrace our children, just they way they are, and inspires us to use books to help them along the way. Sally and Nathan Clarkson share how books shaped his rough growing-up years and filled their home with both wonder and hope. Listen to Episode 57 →
---
If you're unsure which books being published today are worth your time (or if they're worth your time at all)… then this episode of the Read-Aloud Revival podcast- all about some of the best books by living authors- is for you. You're guaranteed to find something worth reading. Listen to the Bonus Episode →
---
It's the podcast that started it all, and it has nearly 100,000 downloads alone. Seriously- if you don't know where to start at the Read-Aloud Revival, then just start here. Listen to Episode 1 →
---
We're Just Getting Started…
Here at RAR, we're all in on helping parents make meaningful and lasting connections with their kids through books. We're so glad you're here with us!
The very best way to stay up to date on new podcasts as we air them is to hop on the email list. We'll send you our read-aloud booklist when you pop your email in below:
Get the printable version
Books boys love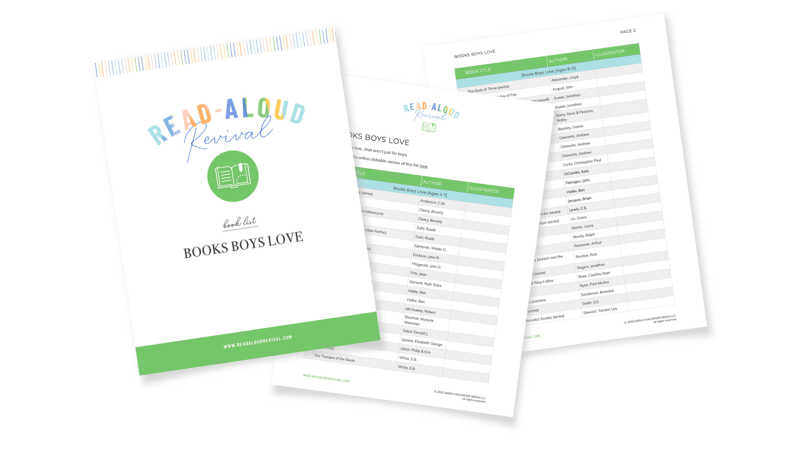 You can also subscribe to the podcast on iTunes, Stitcher, or any podcast app.
More free resources and booklists
Get the best episodes and reources
from the Read-Aloud Revival