Sometimes it can be tricky to find books for boys.
It's not so much that they need different books than girls do, but… well…
…at some point, you may find it's difficult to match your boys up with books they love.
You know what I mean, right?
The kind of books they'll stay up late reading with a flashlight underneath the covers. The kind of books that give them an insatiable thirst for reading. The kind of books that turn them into readers.
These books, of course, are not just books for boys. Many appeal to my girls, as well!
But if you have a boy in your life who just doesn't love reading (yet!), then this episode of the Read-Aloud Revival podcast is for you.
You can download the printable version of this booklist right here:
Get the printable version
Books boys love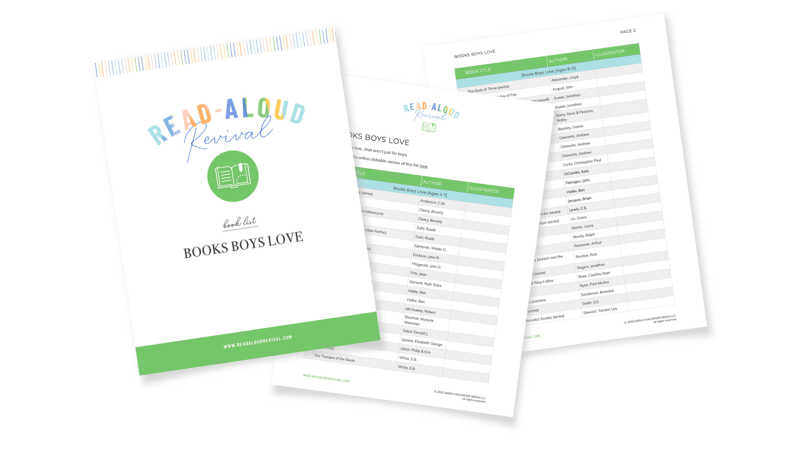 In this episode, you'll hear:
books with characters that will grab your boys' imaginations
what boys need in books that they read 'for fun'
my favorite recommendations for boys of different ages
Click the play button below:
Listener Guide
Use the time stamps below to skip to any part of the podcast:
1:40 Not just for boys, but …
3:48 Recommendations for boys ages 4-7
6:20 Recommendations for boys ages 8-12
10:42 Mysterious Benedict Society and Will Wilder
12:37 Andrew Clements's books
14:16 Books for teen boys
17:40 The Boundless and Gary Paulsen's books
20:14 Meet picture book author, Matthew Paul Turner
26:05 Let the kids speak
More free resources and booklists

Get the best episodes and reources
from the Read-Aloud Revival
Books from this episode:
(All links are Amazon affiliate links.)
Youngest boys
Boys ages 8-12:
Teen boys:
Get the printable version

Books boys love
Links from this episode:
Share this list on Pinterest:
More free resources and booklists
Get the best episodes and reources
from the Read-Aloud Revival