It's time! This week marks the 50th anniversary of the Apollo 11 Moon Landing, and we've got some drawing tutorials and a stellar booklist (see what I did there?) for you and your kids to enjoy together.
First: let's draw!
Ralph Masiello has been leading our Read-Aloud Revival Premium members in drawing workshops, and he recently joined us to draw space-themed scenes.
We've pulled a couple of those recordings for you and included them below.
(Pssst…RAR Premium Members, remember you can access all 10 of the videos from the space drawing workshop now)
Grab some paper, a pencil, and an eraser. This is going to be fun!
Simple Spaceship
This tutorial is ideal for kids age 4-9. Ralph leads our younger kids through drawing a simple spaceship:
The Saturn V Rocket
This tutorial is ideal for kids age 10+ (or anyone who likes a challenge!). Ralph leads our older kids through drawing the Saturn V Rocket that launched the Apollo missions.
Closed captions are available on both videos—just click CC to open them.
By the way… if your kids enjoy these, they'll also love our (many) other drawing workshops with Ralph inside Premium. We're opening up Premium to new members in August. Just pop your email in below if you'd like a reminder about that:
Request an invitation to RAR Premium
While you wait, we'll send you instant access to our Master Class:
Simple Reading Journals for Kids
Next… the books!
You've seen our list of picture books for all ages about the moon landing, right?
See the whole list of picture books about the moon landing here, or download a printable version by popping your email in below…
Get the printable list:
picture books about the moon landinG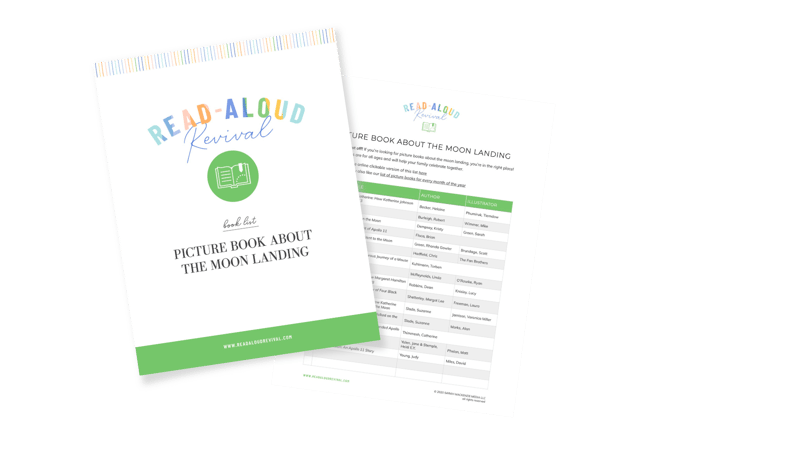 Just for fun…
You could add some Marshmallow Moon Oreos, or maybe get some Tang and drink what the astronauts drank. 🙃