It's almost time for Christmas School at Read-Aloud Revival! 🥳 Christmas School is a whole month of Family Book Clubs based on books by Tomie dePaola.
Your Christmas School Guide includes:
Read-aloud suggestions
Christmas Carols
Crafts
Treats
Art lessons
Nature study tie-ins
History/Geography lessons that correlate with each book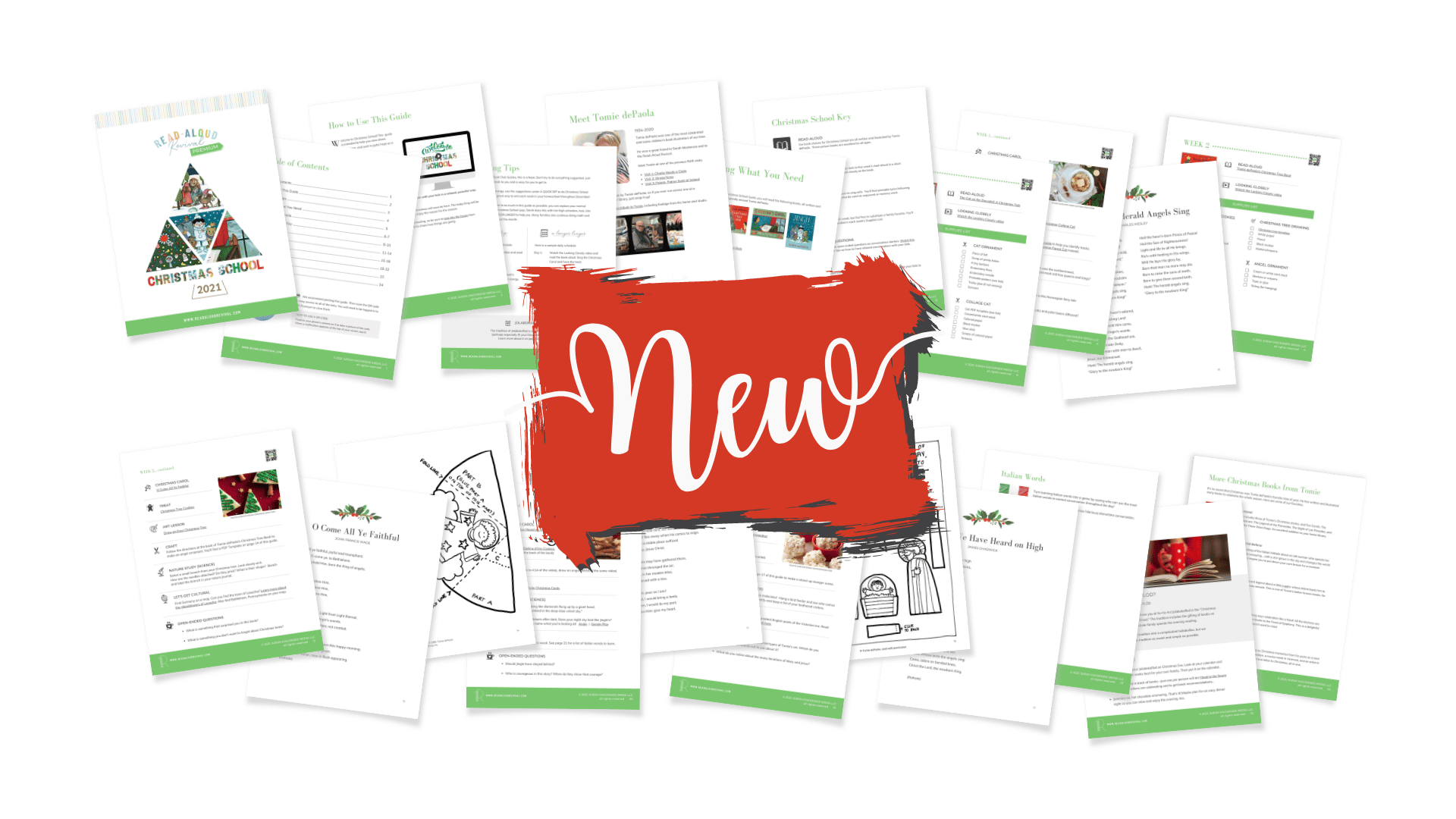 It's a veritable feast of merriment, and so rich and nourishing that many RAR Families pause everything else they're doing in their homeschool (except for math, perhaps) to spend a month doing Christmas School, instead.
Take it from us, your kids will love you forever for this. 😉
What do I need for Christmas School?
RAR's Christmas School is available to all RAR Premium members. Get Premium for immediate access to Christmas School.
All you need is the Christmas School Guide (download it inside RAR Premium) plus these four books by Tomie dePoala:
Tomie dePaola's Christmas Tree Book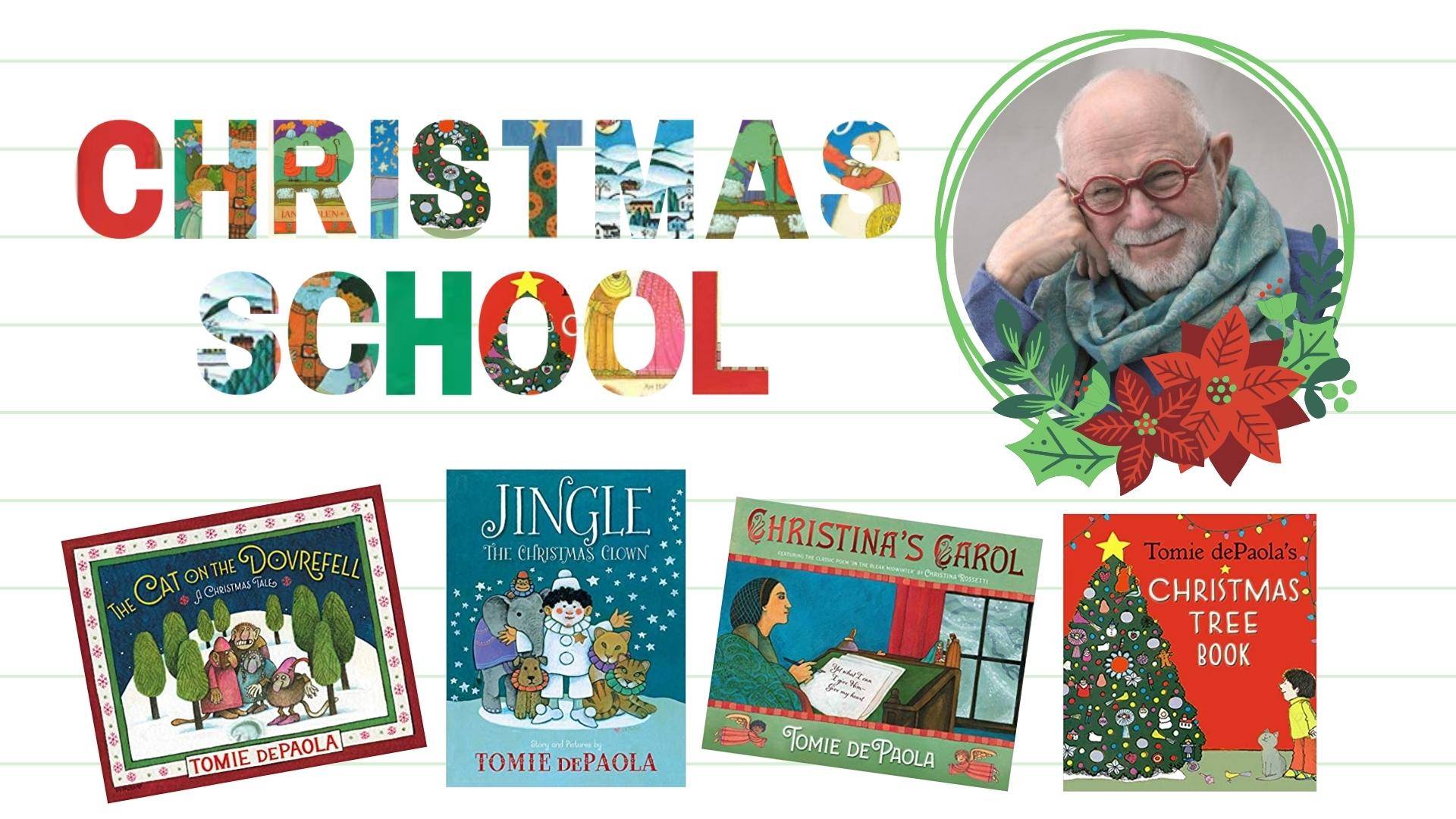 What ages is Christmas School best for?
Christmas School is built for the whole family.
Most RAR Premium members read aloud the books with all of their kids. The crafts, open-ended discussion prompts, Christmas carols, treats, and science/history tie-ins can be the mainstay for your curriculum for a wide variety of ages.
That said, kids age 5-14 will probably enjoy Christmas School most.
When does Christmas School Start?
Your Christmas School Guide is available NOW in RAR Premium. We begin officially on December 1st.
How will I have time for this?
Many RAR Premium families find that doing Christmas School + math is quite enough for the month!
In fact, Christmas School is focused on slowing down to focus on the reason for the season… and to enjoy the season, yourself. Taking a small break from the rest of your homeschool curriculum can be really life-giving for everyone.
Christmas School is so rich and nourishing, it's become one of our favorite parts of homeschooling!
Is Christmas School religious?
We're all Christians here on the RAR team, and Tomie dePaola's Christmas books (even those that seem secular) are pretty focused on the true reason for the season: the birth of Our Lord Jesus.
That said, non-Christian families often use and enjoy our Christmas School resources, as well.
Will I need to buy a bunch of supplies?
Nope. You probably have most of the supplies you need already.
We suggest taking 5 minutes each weekend to glance over the Supplies List in guide so you're prepared for the week ahead. It's all laid out for you in the Christmas School Guide.
What if all I want is Christmas School (and not the rest of RAR Premium?)
No problem. Simply purchase a month of RAR Premium for $19. (It's a great value, even if all you use is the Christmas School Guide!)
You can then cancel your subscription immediately after joining with just a couple of clicks. Once you cancel, you still retain access to everything in RAR Premium for the month you paid for, but you won't be charged again.
Does the 30-Day Money-Back Guarantee still apply?
Of course it does!
If Christmas School or RAR Premium aren't a good fit for your family, we want you to get your money back. Just contact us at Support and we'll make it happen lickety-split.
Can I see some sample pages?
Absolutely! Here are sample pages of our 2021 Christmas School Guide.
More free resources and booklists
Get the best episodes and reources
from the Read-Aloud Revival